With real estate skyrocketing worldwide, more and more people are ditching their landlocked homes for a more adventurous way of life: living full-time on a boat. There are a lot of benefits of living on a boat including cheaper rent, amazing views, and you can vacation where you live but is it right for you? Here are some tips for living full-time on a boat you need to know before you make the move.
You might be surprised to know that there are several things to consider before moving onto a boat, the last of which is what boat to buy! You have to decide where/what marina you want to live in, if you have a partner you need to make sure that they're totally on board as well, and decide what type of boat you want, among other things.  
Tips for Living Full-Time on a Boat: Things You Need to Know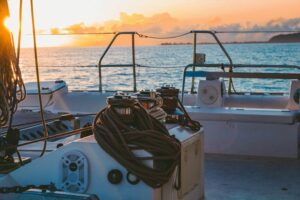 While living on a boat has its fair share of challenges, it can also be very rewarding. There are no shortages of adventures to be had on a boat. There are some benefits of living on a boat that may make the switch worthwhile.
For starters, living full time on a boat has the potential of saving you money. As with anything it all depends on what you want and how much you're willing to put into it. And while you'll be saving money on rent there are some ongoing costs when you live on a boat.
Some of those costs, as outlined by Waterborne Magazine, include:
Liveaboard boat insurance costs more than recreational boat insurance.
Liveaboard moorage is generally more expensive than recreational moorage. Expect to pay $550-750 a month.
Water, ironically, and electricity though they cost a fraction of the price of a house.
Maintenance costs will depend on whether you're doing the work or if you hire someone and the overall condition of the boat. Generally speaking, marine products cost 3 to 4 times the price of household building supplies. Expect to pay around $1000-$6000 annually.
Liveaboard boats can cost anywhere from $10,000 to $200,000. If you finance your boat, you will have monthly mortgage payments just like if you financed a home.
Boat property taxes vary by location. For example, Californians have assessed a 1.1% tax on their boats' current value annually.
Besides the living expenses, you get the added bonus of bringing your home on weekend getaways and extended vacations, thus eliminating the need and expense of a hotel.
Make Sure You're Ready to Live Full-Time on a Boat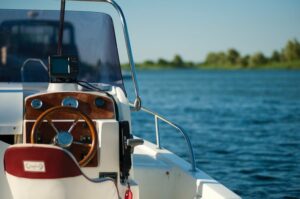 It should go without saying but when you're considering the adventure of a lifetime moving to a boat with your partner, you want to make sure they are 100% on board with the decision.
Not only is living full-time on a boat a considerable life change and adjustment, but it's also tight quarters. If your partner isn't sold on the idea things could get awkward really fast. In addition to the lack of personal space, if you get in a fight with your partner, there's nowhere to run.
Finding the Perfect Location
Deciding where to live is a whole other challenge. Depending on your location it can be very challenging to find a place to moor your boat. Big cities typically have liveaboard licensing requirements. Because of this many of these liveaboard licensed marinas can often have huge waiting lists, up to 10 years! Do not buy a boat until you know where you're going to keep it.
Some of the most popular cities where people live on their boats, according to BetterBoat.com, include:
Portland, Oregon

Sausalito, California

Alameda, California

Berkeley, California

San Diego, California

Seattle, Washington

The Chesapeake Bay Area

Tampa, Florida

Corpus Christi, Texas
Change in Scenery Means Change in Needs
Most of the cheaper liveaboard boats do not have hot showers and laundry, so if you're not used to roughing it, living on a boat may not be for you. They also have tiny bathrooms, kitchens, and hardly any storage.
When you're around that much water, leaks and climate control will become your new obsession. There are no vents on a boat which means that steam accumulates on every surface when you cook. On humid days, and there'll be plenty of those, the excess moisture in the air will sneak into areas you can't see. 
Even if you're aware of the dangers and make an effort to combat them, there's no way you'll get it all, which is why it is imperative that you have a dehumidifier on your boat.
Eva-Dry Boat Dehumidifiers for Your New Liveaboard Boat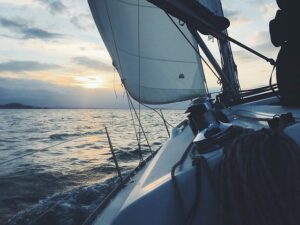 If you want to sit back, relax, and enjoy the best view in the city without having to worry about moisture on your boat then you need an Eva-Dry boat dehumidifier.
The Eva-Dry E-500 High Capacity Renewable Dehumidifier series is perfect for a 500 cubic foot space, such as your boat cabin. It's a compact dehumidifier that is renewable, cordless, requires no batteries, and will not require recharging for 30-60 days. Because of this, this unit is silent and discreet. It absorbs damaging excess moisture from the air and traps it in desiccant beads.
If you're planning on living full-time on a boat, remember, it's a fun adventure that, when done right, will lead to many happy times with your friends and family. So make sure you follow these tips for living on a boat before you take the plunge.
If you want to learn more about Eva-Dry boat dehumidifiers contact us today or explore our selection of available units to see which one is perfect for you.