It's that time of year again. The weather is warmer, the birds have returned home from the south, and your kids are out of school.
There's no better activity to unplug, unwind, and spend quality time with your family than camping!
When packing up your car or RV for your next camping trip here is an ultimate camper packing list for families with a few things you should prepare.
The Emergency Supplies
This list of supplies includes the things you may need in case something goes wrong.
Camper/trailer stabilizer
Pneumatic RV jack
RV surge protector
Spare tires
Tire pressure gauge
Fire Pit wind guard
Jumper cables/battery
Fire extinguisher
First aid kit
Insurance
Registration
Maps
Pocket knife
Compass
Now while you hope you never have to use any of these things while on your trip, we highly recommend bringing them. There is nothing worse than having to end your trip early because something went wrong with your RV before you even make it to your site.
The Essential Supplies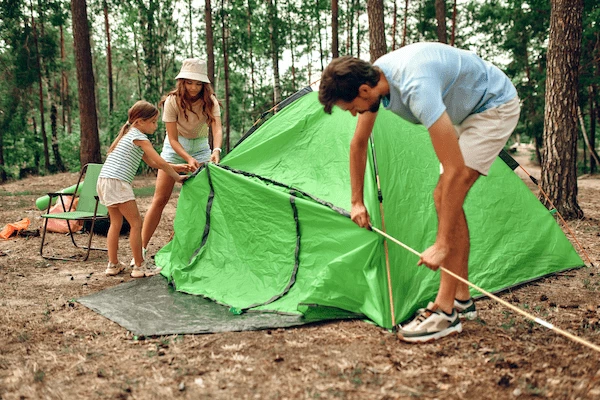 Below is a list of everything you need to make sure you have a good time on your trip and guarantee you won't have to use your emergency supplies.
Shovel
Woodworking knife (for the smores of course!)
Stakes and rope
Extension cords
Rope or paracord
Matches and lighter
Tent (if not using an RV)
Flashlights
WD-40
Duct tape
Dehumidifier
A pot or kettle to boil water
A charcoal filter for the water
A hatchet (in case you plan on gathering firewood)
Toilet chemicals (For RVs)
Sewer kit (For RVs)
Metal or plastic utensils
Plates, bowls, and cups
Paper towels
Pots and pans
Dish soap
Hand sanitizer
Trash and recycling bags (leave the site how you found it)
Bedding (blankets/sleeping bags, sheets, pillows, mattress pads, pillow cases)
Zip plastic bags
Food
Your clothes!
These are the types of things that are extremely beneficial, yet you might not think of when packing.
You may be surprised to see a dehumidifier listed in our packing list but let us explain.
Dehumidifiers Are a Must
You know that icky feeling in the morning when camping right as you wake up? The one where everything feels just slightly damp?
That is from all the morning dew and humidity.
A dehumidifier sucks up all this excess water keeping your tent or camper nice and fresh. Not only that but a dehumidifier can help reduce the number of bugs you find flying around your campsite.
Now let's break down the type of clothes and food you should remember to bring.
Clothes List
If you are going during the summer time here is a list of clothing items you should bring:
Hat
Pajamas
Jacket
Raincoat
Sunglasses
Swimsuit
Sneakers
Hiking Boots
Water shoes
Shower shoes
Underwear/undergarments
Socks
Shorts
T-shirts
Laundry bag
Always bring more than you think you will need just in case. While some campsites have washers, you won't have time to do a load of laundry when there are so many other fun activities you could be doing instead.
For winter we suggest adding these additional items:
Long Johns
Long sleeve shirts
Pants
Sweatshirts
Thick socks
It can get pretty cold at night, even in the summers, depending on where you go camping so always bring a jacket even if you don't think you'll need it.
Food List
Now, this is probably the one list you won't forget. After all, one of the best parts of camping is eating camping food.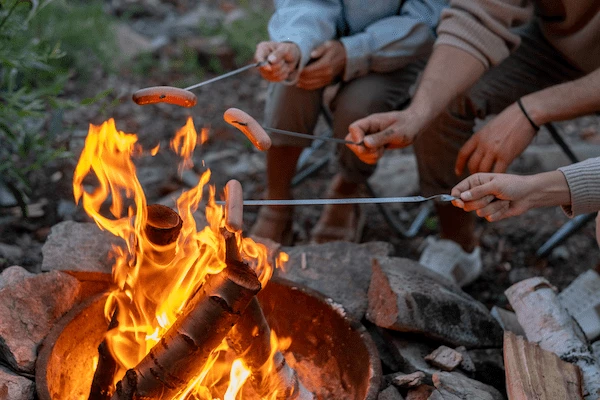 Vegetables and fruits
Butter or margarine
Cereal
Condiments
Grill meats (hot dogs, burgers, brats, etc.)
Eggs
Milk
Soft drinks
S'more ingredients (This is definitely an essential!)
Salt, pepper, herbs, and spices
Bread
Baking items (including flour, cornmeal, sugar, baking powder, etc.)
Canned foods
Coffee (if you bring grounds, make sure you also bring a coffee maker!)
Snacks
Cooking spray or oil
Peanut Butter
If your kids are picky eaters check out this awesome list of camping meals for kids. Next on the ultimate camper packing list for families are the things you need for a little extra comfort.
The Convenience Supplies
This list is for all the things that will make your trip outdoors a little easier.
Water bottles
Cutting board
Camping griddle
Cooler
Ice or ice maker
Umbrellas
Camper or RV canopy
Can opener
Strainer
Mosquito repellent/bug spray
Mosquito coil
Sunscreen
Bug spray (saying it again so you don't forget, you'll thank us later)
Camping chairs
Charging station wall charger/portable charger
Gardening gloves
Latex or neoprene gloves
Aluminum foil
Food containers
Alarm clock
Toiletries/personal items
While those "roughing it" may see these as unnecessary, anyone with children, or just wants to make things a little easier should not forget these when packing!
Personal Items List
While the below items are listed under convenience, we think deodorant and toothpaste are essential! Here is a list of items you should throw into your toiletry bag now before you forget them.
Toothbrush
Toothpaste
Floss
Deodorant
A brush or comb
Hair ties
Lotion
Sunscreen
Razors
Shaving cream
Nail clippers
Shampoo & Conditioner
Medications
Watch
While the campsite, or nearby convenience store, may have these items for sale, packing them will save you time and money.
The Memory Makers
Now for the fun list! You finally got your kids to get off their phones (thanks to bad reception!), so now is the time to make some memories!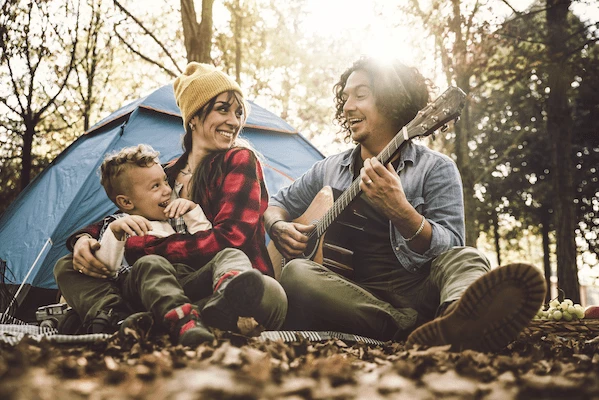 Here are a few things that will make the trip that much sweeter.
A journal or sketchbook
Playing cards or puzzles
Binoculars or a magnifying glass
Fishing gear
Camera
Books
Water toys
Sand toys
Board games and card games
Activity/coloring books
Bubbles
Bluetooth speaker
Hammock
Glow sticks
Chalk
Sports equipment (frisbee, soccer ball, basketball, baseball, corn hole, you name it!)
Instruments
If you don't have room in your car or RV for these things don't worry, there will probably be plenty of fun things to do at your campsite. But anyone with kids knows that busy children are happy children!
Get Your Camping Dehumidifier from Eva-Dry
Don't forget to grab an Eva-dry camping dehumidifier to make your sleep a little more comfortable out in the wild.
To learn more about the benefits of a dehumidifier when camping read our article, Why You Should Bring a Camper and Tent Dehumidifier Camping.
Ready to get packing? Fill out the form below to get your FREE download of our Ultimate Camper Packing List for Families to make your next trip one to remember.