Here are some tips on what to pack for an RV road trip and some ideas of where you should adventure. Continue reading to learn more.
Summer is upon us, the kids are out of school and it's time for a vacation! But where to go?
Would you enjoy waking up and being within walking distance from a beach, lake, or mountain to climb? And end your day making smores by the campfire instead of making the long drive out of the backcountry to get back to your hotel?
If this sounds like your dream vacation then, an RV road trip may be in your future.
An RV road trip is a great way to connect with your friends and family and enjoy the great outdoors. Disconnect from the hustle and bustle of work, school, and life and just enjoy quality time with those you love.
Now that you have to decide where you want to go, what's a road trip without stopping to see some landmarks and eating greasy food?
Something else to consider is what to pack for those long hours on the road.
Continue reading for some tips and tricks on what to pack for an RV road trip.
Planning Your RV Road Trip

It's so difficult to decide where to go on your road trip, a lot depends on your starting point and how long you have.
According to Travel Channel some popular RV road trip routes are:
Rocky Mountains: Albuquerque, New Mexico to Glacier National Park, Montana. Here you'll come across the home of the oldest continual Native American settlement in the U.S.
Gulf Coast Plus: Padre Island, Texas to the Florida Keys. This route takes you through New Orleans where you can enjoy live music and beignets.
Pacific Northwest: Olympic National Park, Washington to Lake Tahoe, California. On this route, you get to explore Redwood National Park which is home to the tallest trees on Earth. The parks also protect vast prairies, oak woodlands, wild riverways, and nearly 40-miles of rugged coastline.
New England Double Dip: Coast to the Mountains. Some stops you can take along the way include the boutique filled towns of Guilford and Madison; the tree-lined lanes of Old Saybrook and Old Lyme; and/or the blue waters of Hammonasset Beach State Park
Some other good routes, according to Big World Small Pockets, is the Hermann Wine Trail, the Florida Keys, Death Valley, and if you're up for the challenge, Route 66.
Tips for Your Road Trip

Traveling via an RV is a lot slower than taking your car on an average weekend road trip. You may think that because both modes of transportation are on wheels, it may be the same but RVs are a whole different ball game.
Because of this, according to KOA.com, you should pick overnight stops that are no more than 300 miles apart, which comes out to about five hours worth of driving in between stops. Remember, that the more time you spend on the road the less time you have to enjoy your stops.
Try to find campsites that are easy in and out, like pull-through campsites, as this will save you the massive headache it is to maneuver your RV into tight spaces.
If you didn't bring a gas stove or barbeque grill, make sure that your campsite offers food service, it's no fun to arrive at your campsite only to realize that you have nothing to eat. Campsites that have showers is always a plus. And don't be afraid to ask the staff and fellow campers for advice, chances are that you'll learn some valuable information especially from the staff.
This should be fairly obvious but we're going to mention it anyway: watch your gas gauge. RV-ing is a blast but don't get so caught up in the excitement that you forget to fuel up.
Scout out truck stops to fill up when you're at about a quarter of a tank so you'll have plenty of room for pulling through and turning your RV, without the stress of running on fumes.
What to Pack for an RV Road Trip.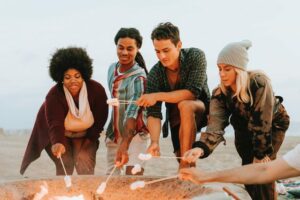 Your RV packing list should look a lot like what you would pack for camping or backpacking. Bring clothes that you can layer so that you'll be comfortable no matter what the temperature is like.
If you plan on hitting the trails pack a first aid kit, headlamp, and rain-resistant clothing.
One of the best things about RVing is that you can cook while on the go. If your RV doesn't have a kitchen then you can pack a portable gas cooktop or a barbeque grill. This saves you money and puts you in control of what you eat, but don't forget about the snacks!
Pack some board games for the drive for those in your party that aren't driving. Make an epic playlist for those long stretches of time on the road and have fun with it!
Here is a master list of what to pack:
Cups

Mugs

Plates

Eating utensils

Grill

Napkins

Paper towels

Dish soap

Sponges

Trash bags

Hand soap

Shower soap

Towels

Shampoo

Toothbrush and toothpaste

Toilet paper

Flashlight

Map

Board games

Headphones

Sunscreen

Dehumidifier
The one thing that people always seem to forget is to pack a dehumidifier. Your RV is going to encounter all sorts of conditions, in addition to you coming in dripping wet from dips in the lake/beach/river, which could cause an excess of moisture. That moisture could lead to moisture-related issues that can cause damage to your RV and musty odors.
Eva-Dry RV Dehumidifiers
Eva-Dry Dehumidifiers address all of your RVs moisture control needs. Some units even have available 12-volt adapters for when you are running off battery power.
To learn more about these dehumidifiers contact us or check out our product page.