Floods from extreme weather events this summer in the USA and Europe have set the stage for a new respiratory health problem – Mold.
Floods from extreme weather events this summer have set the stage for a new respiratory health problem – Mold.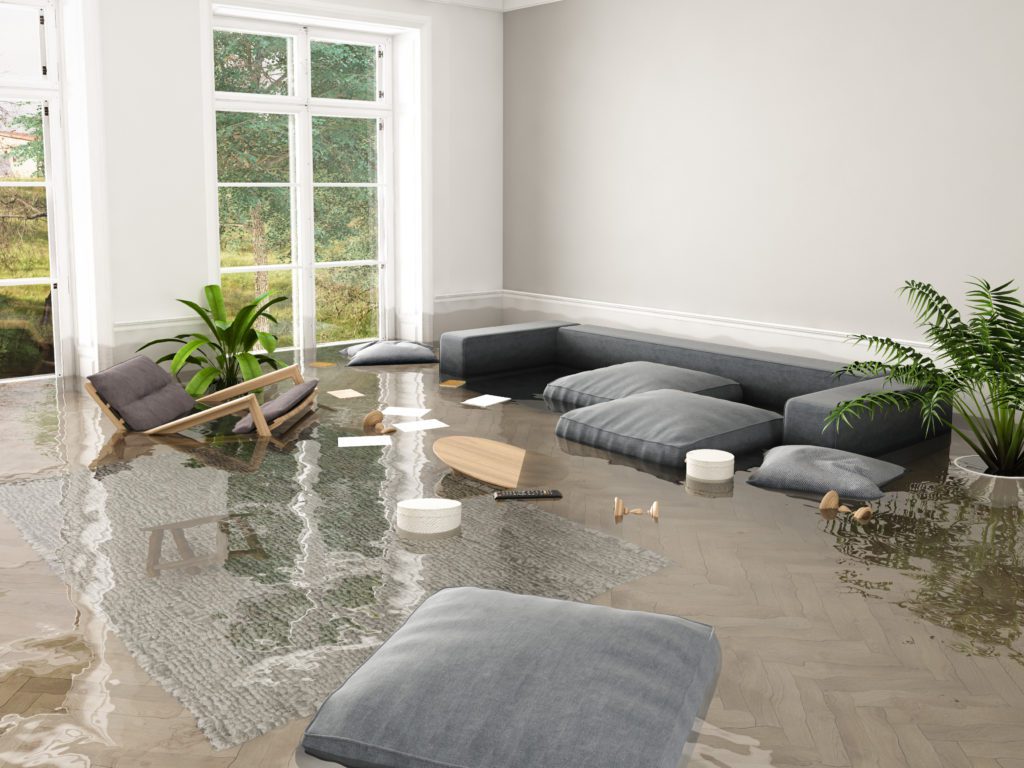 The United States has been swamped by heavy rains and floods this summer. This season, tropical storms and hurricanes hit Texas, northern Virginia, Louisiana, New York City, New Jersey, Rhode Island, North Carolina, Tennessee, Alabama, southeastern Michigan and Connecticut with heavy rains that caused flash flooding. Even Arizona, a state with a mostly desert climate, was declared a major disaster area due to flooding driven by monsoons two months ago.
Europe has seen catastrophic summer floods in Austria, Germany, Belgium, France, Romania, Switzerland, and the United Kingdom. These floods were responsible for extremely devastating property damages and loss of life. [ See 2021 European floods – wikipedia ]
EVA-DRY EXTREME WEATHER OFFER | BUY 4 E-150 GET 4 FREE!
After the storms pass and the people set out to rebuild their lives, excess moisture gives rise to another health threat: the growth of mold and fungus inside homes, vehicles, and buildings.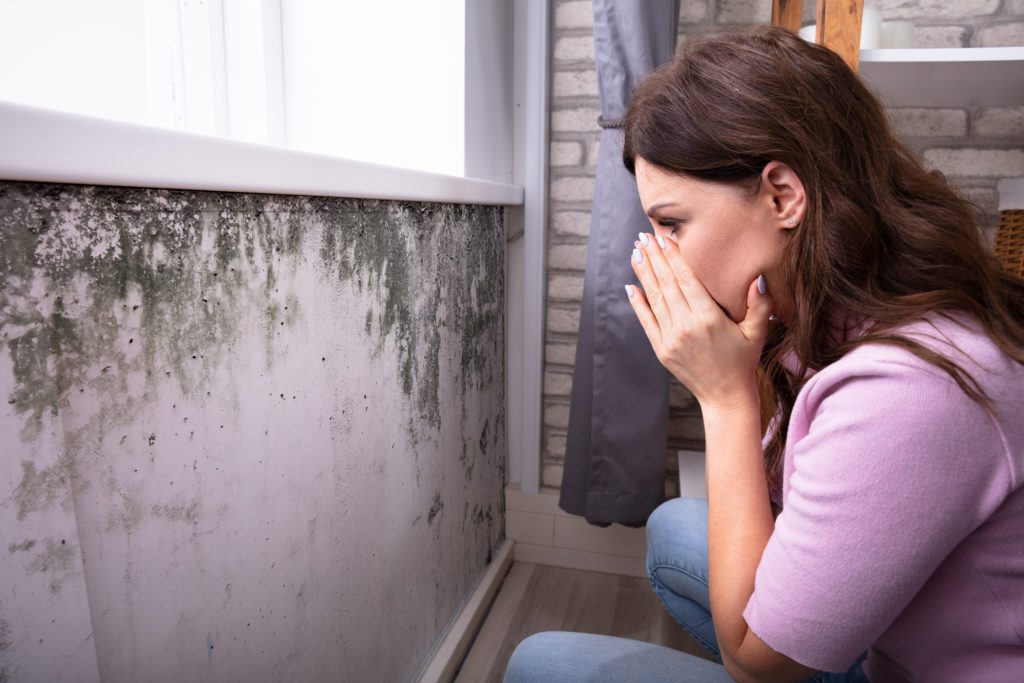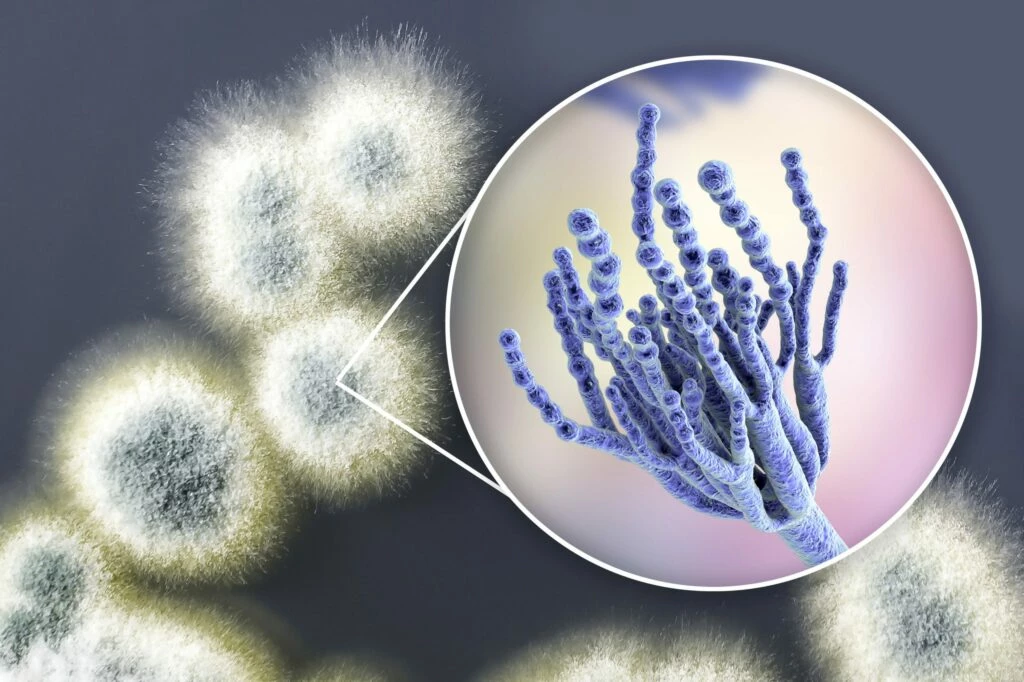 Excess moisture not only can ruin your possessions, it can lead to the growth of mold and fungus that can compromise your respiratory health.
Excess moisture can wreak havoc on your most meaningful possessions; warping books, fading photographs, tarnishing jewelry,  and creating the perfect environment for the growth of mold and fungus throughout the home.
The CDC estimates more than 75,000 people are hospitalized annually for invasive fungal infections, yet in 2004, the Institute of Medicine of the National Academies of Science, Medicine and Engineering released a report claiming that health threats posed by contaminants that grow in damp, indoor spaces were under-researched.
Maryn McKenna wrote an in-depth article about the issue for wired.com. She reports that after the storms receded, researchers "leapt into studying human health risks from mold, investigating rates of allergies, asthma, toxin exposure, and dangerous internal infections ."
If you would like to explore this subject in depth, read Maryn's complete article on wired.com
Protecting your health and your possessions.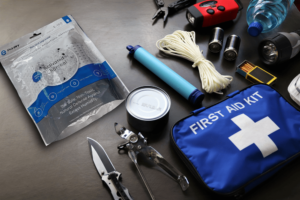 Eva-Dry is here to help. You can protect and preserve your possessions and help prevent the growth of mold and fungus by keeping humidity levels in your home low. The RH, or relative humidity level should be no higher than 60%–all day long. A hygrometer can check your RH level to ensure your home is dry enough to keep you and your things safe from excess moisture. If your RH level is high, a dehumidifier will help to reduce excess moisture and keep your home, vehicles, documents, keepsakes, and family safe.
Eva-Dry has an entire line of dehumidifiers to suit your moisture control needs. Including E-150 disposable silica-gel pouches, renewable desiccant dehumidifiers, compact and efficient electric Peltier technology dehumidifiers, and our EDV-4000 with Rotary Desiccant technology that can reduce moisture levels in spaces up to 4,000 cubic feet.
If you already have mold growing in your home, the CDC has a page dedicated to mold prevention and treatment where you can learn more.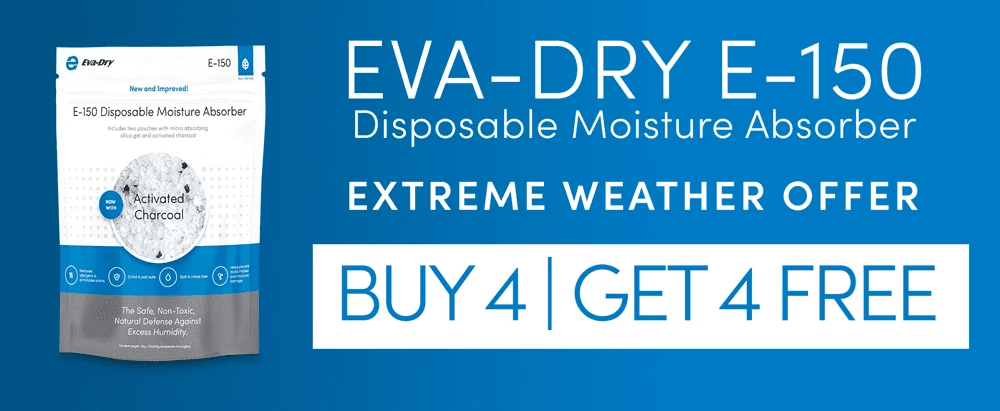 Make excess moisture control part of your storm preparedness kit. Preserve and protect your important documents, photographs and items from storm related moisture by storing them in water-tight containers along with Eva-Dry E-150 moisture absorbing pouches. These pouches are compact enough to fit in most containers, require no power, last between 30-45 days*, and have enough desiccant to absorb moisture in spaces up to 150 cubic feet. The pouches come in a convenient resealable pack to keep them fresh until they are ready to use.
Thanks to this special offer, when you Buy 4 E-150 packs from Eva-Dry, you get 4 FREE! There is no coupon code necessary, the discount is applied when you check out from the Eva-Dry e-commerce store. The offer is good while supplies last, so hurry to eva-dry.com to complete your storm preparedness kit.
While you are taking advantage of this incredible offer, make sure to check out Eva-Dry's complete line of compact renewable and electric dehumidifiers to preserve your things and protect your home from dangerous mold and excess moisture damage.
*Depending on humidity level.